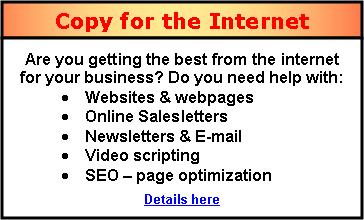 Copywriting – and why this "secret" marketing tool is key to your business success
If you're a business using direct response marketing, you already know the value of well-written copy. If you're a small business owner, you may not even have heard of this thing called Copywriting. And yet, of anything to do with marketing, this one is by far the most important.
Now, if that was just me saying that because I am a copywriter looking for business, you'd have every reason to question me for saying that. But read the following quotes from master copywriters who have made multi-millions not only for their clients, but themselves:
Copy is King
"Everything good that ever happens in biz...... flows from what the copywriter creates. All the ads... the videos... the email... the blog posts... the PPC ads... everything. Copy is king." – John Carlton
The Most Important Component of Success
"My advice to business owners is to recognize that your sales copy is by far the most important component of success. By a long shot. A better mousetrap will not cause the world to come to your door. Great sales copy will." – Clayton Makepeace
I've been in one small business or another now for over twenty years. It wasn't until I made a concerted effort to learn about marketing that I came across this thing called copywriting.
I had come to the realization that if I wanted my businesses to succeed and not just survive, I needed to learn marketing. So I went at it with a vengeance – I figured if I was going to learn about it, then I wanted to learn the best of it.
I believe I did. And I believe I found the best of marketing when I discovered copywriting.
You see, all of us in business do copywriting whether we realize it or not. If you have ever written an ad, a brochure, a website, or any other marketing material – you have written copy.
But, there is a world of difference between copy written by a person who has only the vaguest idea of what to write, and someone who is trained to do it well.
The more I learned about copywriting, and the more I became exposed to the way master copywriters wrote copy, the more intrigued I became. I saw businesses go from bare beginnings and in debt, to millions of dollars in fairly short periods of time. And while there were always a number of marketing strategies and methods being used, key to all of them was the copywriting.
So I set out to learn copywriting. And this succeeded where nothing else had, in changing my attitude about marketing from one of frustration and discouragement to one of excitement and enthusiasm. So much so, that I decided to share this amazing discovery with others. That's how the Copy Whisperer came to be.
I've taken training from the American Writers and Artists Institute, which has one of the best copywriting programs available. According to Michael Masterson, another master copywriter and the author of their core program, by the time you are half-way through their core program, you already know as much about copywriting as 90% of the copywriters out there.
My goal in becoming a copywriter is to help other businesses become more successful by making use of this amazing tool. Either by writing copy for them, or by teaching them how to do it for themselves.
If you want to see better results with your next marketing project, either get a copy critique done, or just go for it and get the copy written by the Copy Whisperer. I guarantee my work. Good copy will bring the client far more than they invest in getting the copy done.
So give me a call today – 403-981-5910 – and let's get your business on the way to results that are multiple times better.
Evelyn Grace Marinoski,
- The Copy Whisperer
PS. While I can do copy for numerous marketing projects, one of my areas of specialization is writing copy for online projects. If you're wondering if your website is doing the best it can, or what else you could or should be doing online, give me a call and ask. I'll be happy to discuss it with you. Call 403-981-5910.
Call today and you can still get in on the special offer for a critique – only $20 for a half hour critique. It's one of the best and most affordable ways to experience what copywriting is about and what it can do for you.
If you're new to copywriting, check out the "Client Information Packet" and the rest of the information on this site and then call for your critique today.
Contact the Copy Whisperer at 403-981-5910 or by e-mail today.